LYNK is a simple, effective, and economical solution that automates data collection and analysis from various machines.
Simple to install and simple to use – yet powerful enough to support lights-out operations. LYNK eliminates tedious, manual, error-prone human interactions to save valuable time and effort.
LYNK automatically collects and analyzes accurate and essential production metrics that are necessary to make positive, impactful, and sustainable cost saving improvements to any production operation.
Real-time essential machine metrics collected and analyzed automatically without the need for any human intervention.
Multi-vendor support to connect with various makes, models, and technologies – both digital and conventional, across production platforms.
Save time and effort, gain immediate visibility into operations with remote monitoring, improve equipment utilization and productivity. 
Hardware-software integration
Secure and scalable architecture serves a variety of manufacturing environments. Access production status and analytics, anytime, anywhere.
Real-Time, Remote Monitoring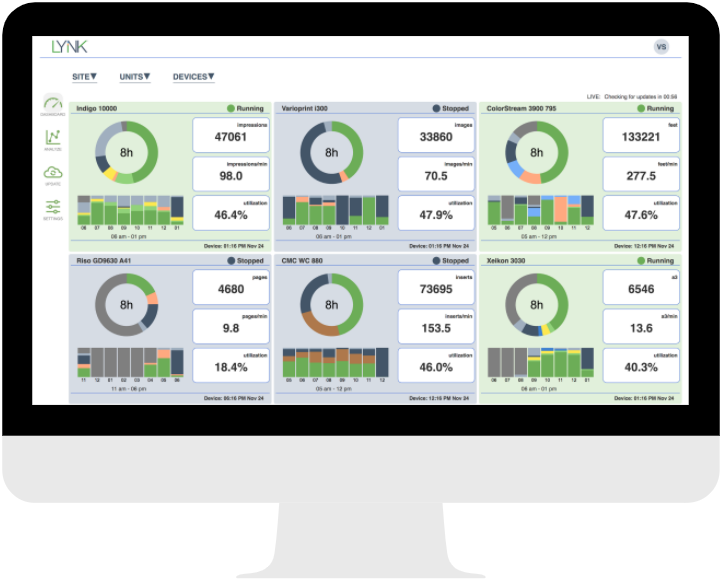 The real-time dashboard provides immediate visibility into equipment status across the entire production floor, providing performance feedback to operators, supervisors, and managers.
LYNK dashboard can be accessed remotely and helps to maintain a healthy operation, keep things on track, and ensure that the deadlines are met. KPIs and other useful metrics assist in identifying issues as they happen to facilitate immediate corrective actions.
Simple, Essential Analytics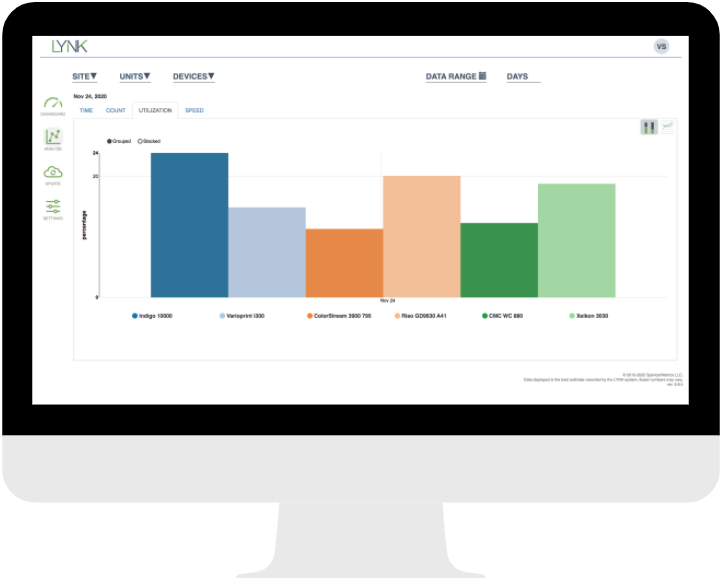 Simple and automatic data collection enables lights-out operation with accurate production data directly from all machines. The analytics package provides management with essential metrics to track, monitor, and analyze key production parameters – measure Uptime, Downtime, Utilization, Speed, Count and more. 
Maximize overall productivity, reduce costs, and improve utilization with real metrics using intuitive dashboards and easy-to-use graphical displays of analyses. All analytics and data are available for export; API allows integration with other MIS/ERP systems.