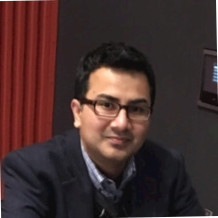 Melville, NY, 8 May 2019 – SpencerMetrics LLC announced Vishal Sahay's promotion to Executive Vice President, effective immediately. In addition to leading Product Development and Support teams for SpencerMetrics CONNECT, Vishal will be responsible for Business Development. A role tasked with identifying, pursuing, and directing development opportunities worldwide – including EMEA as well as the Americas.
David Spencer, SpencerMetrics President and CEO, had the following to say about Vishal's promotion. "Vishal is a valued member of the SpencerMetrics team and has been an integral part of our strategic direction. This promotion recognizes his many contributions to our growth and continued success."
Vishal joined the Spencer Associates Group in 2004. Vishal received a Master of Science degree in Print Media from Rochester Institute of Technology (RIT). He also holds a Bachelor of Engineering in Printing Engineering technology.
The patent-pending SpencerMetrics CONNECT platform brings automatic data integration, analytics, and asset performance management to the printing and finishing community. By automating complicated processes, CONNECT allows print shop management and owners to utilize advanced analytics. This removes the arduous task of manual data collection and analytics. Able to provide users with straightforward and relevant up-to-the-minute analyses. CONNECT says goodbye to traditional, static historic information – and provides real-time, actionable, intelligent data. With CONNECT's anywhere, anytime, on-demand analytics, management decisions can immediately address production efficiency. Which leads to increased uptime, streamlined operations, and discover new growth opportunities. CONNECT puts the power of data and analytics in the hands of print industry management. While, automatically collecting information from multi-vendor digital, offset, finishing/mailing equipment, and the shop floor. CONNECT with its AUTOMATER legacy integration is the complete solution for today's busy print shops.